Introduction
Organizing a large international conference is a truly daunting task, so there is no other way to begin this commentary than by showering praise on the courageous team of organizers behind the Prague2020 conference. From my perspective as a remote participant located in Denmark, every aspect of the online conference appeared to function very smoothly. I can only begin to imagine the amount of invisible work carried out behind the scenes that enabled this mega-event to get off the ground.
A social experiment in remote participation
I happen to know that a great number of other people also enjoyed the conference. Not only did I participate in sessions with lively debates, I also experienced the luxury of hanging out with a group of other Danish STS scholars during the conference. This social interaction was the outcome of an initiative by the Danish Association for Science and Technology Studies (of which I am a board member). A few months prior to the conference, we decided to encourage Danish remote participants to book a room in a particular hotel north of Copenhagen during the conference. Our hope was to create some sort of conference vibe and hold ad hoc meetings and joint activities alongside the conference. We had no idea how many people would buy into this idea, but as it happened more than 20 people booked a room and signed up to a shared Teams page, allowing us to do a bit of ad hoc coordination. We ended up having a very nice "conference dinner" together on the second night of the conference and a fair share of other mingling and serendipitous meetings. We enjoyed a particularly proud moment together when the Danish TANTlab received one of the EASST awards.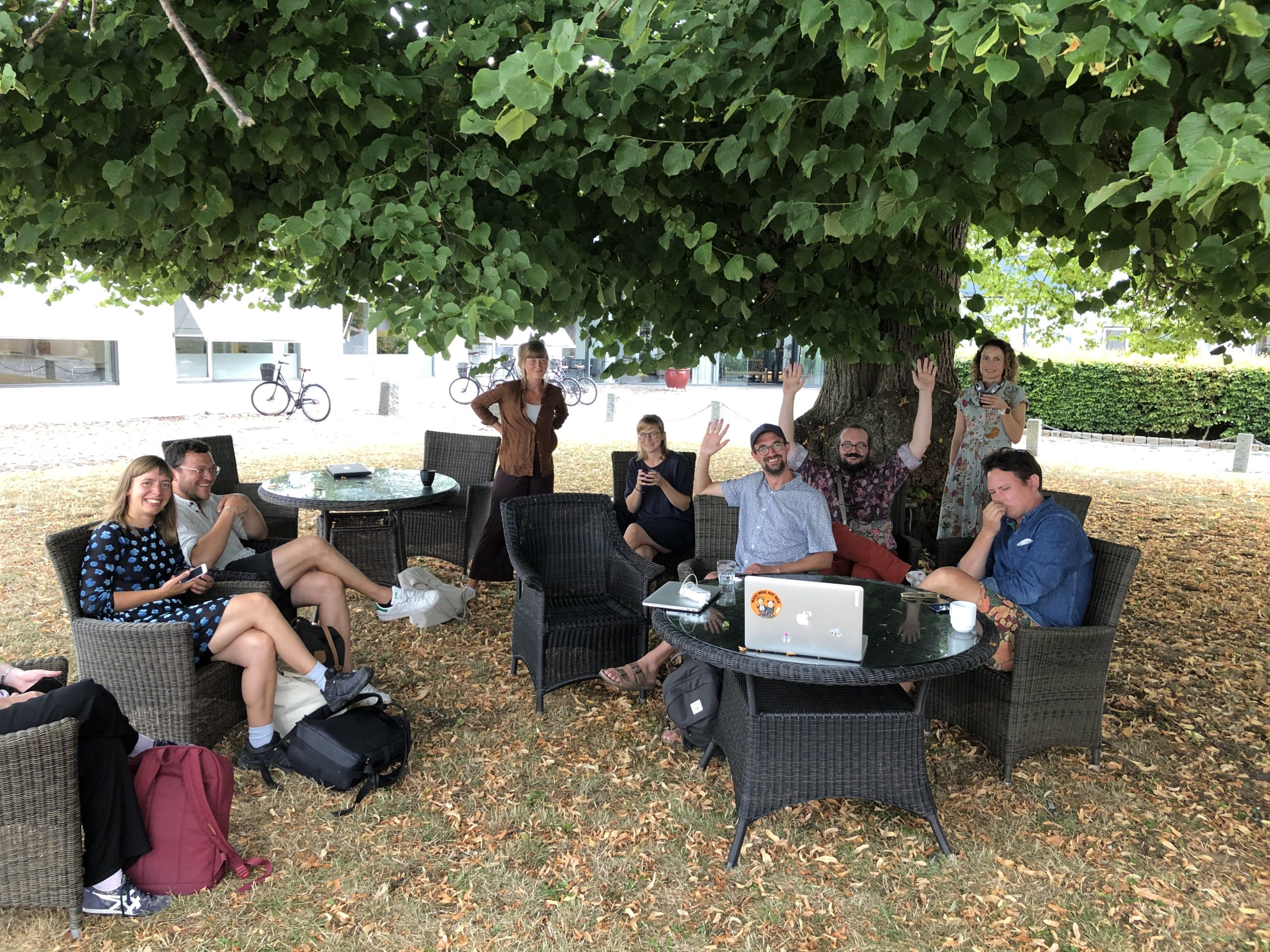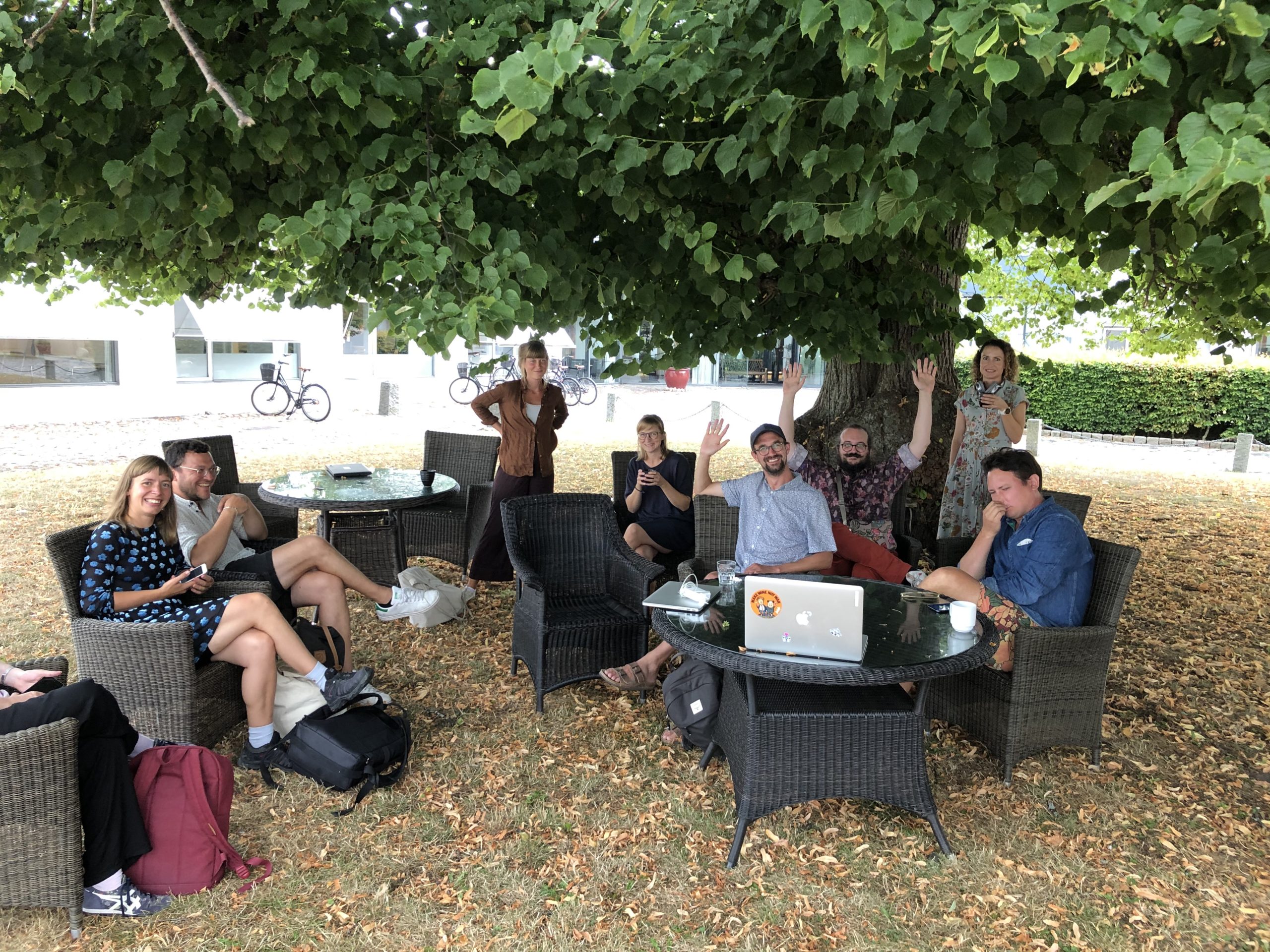 Normal conferencing?
When thinking about my own experience of the virPrague conference in a Danish hotel, I try to remind myself that there is actually no such thing as a normal conference or a normal way to meet. This point became very clear to me when I recently read the Dutch historian Wilbert Van Vree's marvelous account of how meeting rules and behavior have developed since medieval times (Van Vree, 1999). With Van Vree's book in mind, I can begin to imagine what might happen if people from other centuries could time-travel to our last so-called normal 4S/EASST conference, the one in Barcelona 2016. They would surely be puzzled. Medieval warrior groups would be proud to see that the conference organizers continued a procedure they invented – a security guard posted at the entrance made sure that swords, battleaxes, and other weapons were not brought inside. But the same warriors would be absolutely shocked to see that the guards allowed women to enter. People from the medieval church councils would recognize the seating arrangement, with some presumably higher-ranking people sitting in front, lower-ranking people in the audience, and inferior others standing by the walls. But they would ask themselves why the inferior meeting participants by the walls only had to stand for 20 minutes, rather than for hour after hour. People from the debating societies of the late 19th century would applaud the authority of the chairpersons who self-confidently allocated speaking time and occasionally cut people off. But they would also wonder why the people in Barcelona completely overlooked the importance of calling a vote.
Some personal experiences
So how did I experience the virPrague conference – being of course not entirely able to shake off my preconceptions of what a normal conference should be like. During other conferences, I have found myself moving from an early phase of wild interest in too many different things to a final stage of severe conference fatigue. The experience of virPrague was similar, but not exactly the same. Before and during the Prague conference, I used the feature on the homepage that allowed me to add items to my personal calendar. This of course made it painfully clear that I wanted to see too much, but the pleasant surprise was that it also allowed me to quickly navigate between sessions in a way that was much easier than trying to move my physical body out of one room and into another without disturbing two presenters and their audiences. For better and for worse, the materialities of the meeting did force me to stick with presentations that I did not find immediately interesting.
I also found the physical strain of listening for many hours easier to bear. The online format made it possible to move my body to more comfortable positions with my microphone muted and my camera shut off. This meant, of course, that the speaker's sense of whether their talk had captured the audience and demanded their attention was diminished. I also experienced this with my own presentation. My sense of the audience consisted entirely of the people who responded directly. Luckily, there were a good number of active participants in the session and a good fit between the presentations. But I heard from others, who were unfortunate to be in a thematically scattered session, that it was quite an eerie experience to present to a passive audience.
The experience of conference fatigue phase caught up with me a little later than I had expected, most likely because the physical and emotional labor was less demanding than that of sitting in a conference hall. When the fatigue hit me, I resorted to some of the old strategies: micro-tourism (in this case going for walk), coffee sessions with other participants, and catching up on other work. I regret that I did not use this phase of the conference to contact people whom I had briefly interacted with during the sessions. This is something I will have to do better in future.
Thinking about the future
I have heard people say that they hope we will never have a strictly online conference again. I too hope that the coronavirus goes away, but I am not so sure about the conference format. Has the climate emergency, as well as the ever-growing size of our STS conferences, made the time ripe for a radical change? I realize that not everything is ideal with an online conference, but neither is the climatic situation in which we have put ourselves. Should we really, mindlessly, continue an academic ritual that causes ever more people to fly to international conferences? I think not. In fact, I will encourage the leadership of 4S and EASST to impose a 10-year ban on STS conferences that require air travel!
How would that work? The quick answer is that no-one knows. But the better answer is that once the decision is made, we will have forced ourselves to ramp up our sociological imagination. What kinds of "normal, inevitable, and necessary" meeting practices need to be challenged? What kinds of new socio-technical meeting formats might stimulate and sustain our STS community? Would it be possible to designate a number of regional locations accessible by train, where remote participants could create new types of conference experiences? What else might we do to engage all generations of STS researchers in different parts of the world? How can we stimulate a broad-ranging experimentation and reflection on new types of meetings? What might we collectively learn from being an STS community and doing STS under these new conditions? All of these questions and many more would immediately be raised by a ban on grand physically co-located STS conferences. The questions would be troubling and demanding, but I believe they would also spark an extremely interesting discussion and collective experimentation within our community for the next decade.
The environmental benefits are clear – far less CO2 would be emitted. But there are also other immediate benefits. For one, just think of the message a 10-year ban would send to other disciplines. The STS community would demonstrate that we are not afraid to throw ourselves into a radical collective experiment, and we could proudly say that we are not just talking the talk about responsibility. In this way, a self-imposed ban would be a great way to renew our claim to be a bold, avant-garde discipline.
With this comforting thought, I shall end this personal reflection on the virPrague conference. I warmly thank the organizers not only for creating a superb rescue plan in the era of the coronavirus pandemic, but also for setting us on a path that might lead to the more sustainable organization of STS in the future.
Reference
Van Vree, W (1999) Meetings, manners, and civilization: the development of modern meeting behaviour. Leicester: Leicester University Press.