Making & Doing Transformations
EASST-4S 2024
Amsterdam, July 16-19, 2024
The 2024 quadrennial joint meeting of the European Association for the Study of Science and Technology (EASST) and the Society for Social Studies of Science (4S) is hosted by the Athena – Research and Education Institute at Vrije Universiteit Amsterdam (VU Amsterdam).
The Program Committee invites panels, presentations, making & doing contributions, and other events that explore the role of STS in making and doing contributions to transformations in an era of grand societal challenges. 
Visit the conference website.
The Politics of Technoscientific Futures
EASST 2022
Madrid, July 6-9, 2022
Visit the conference website
Locating and Timing Matters: Significance and agency of STS in emerging worlds
EASST-4S 2020
Prague HU & virtual from 18th-21st August 2020.
Browse the programme or view the conference website.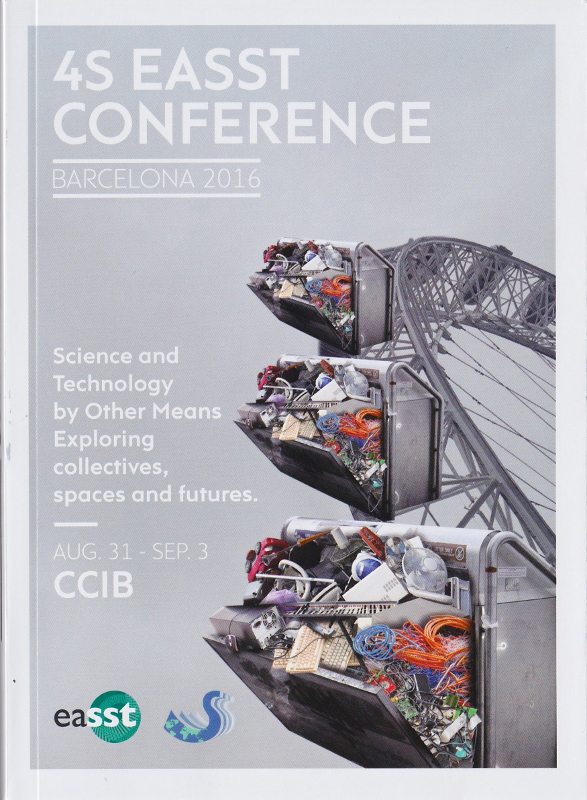 Science and Technology by Other Means – Exploring collectives, spaces and futures
Barcelona, Spain Aug 31 – Sept 3 2016.
Download the programme (PDF); conference tracks and plenaries
Situating Solidarities: social challenges for science and technology studies
EASST 2014
 Torun, Poland, September 17-19 2014.
View themes, tracks & papers; download the programme (PDF / EPUB); conference website
Worlds in Transition: Technoscience, Citizenship and Culture in the 21st Century, 4S-EASST Conference 2000 Vienna, September 27-30 2000.
Cultures of Science and Technology: Europe and the Global Context, EASST 1998, ISCTE, Lisbon, 30 September-3 October 1998.
Signatures of Knowledge Societies, 4S-EASST Conference 1996, Bielefeld, Germany, 10-13 October 1996.
Science, Technology and Change: New Theories, Realities and Institutions, EASST 1994, Budapest, Hungary, 28-31 August 1994.
Science, Technology and Development, 4S-EASST Conference, Gothenburg, Sweden, 12-15 August 1992