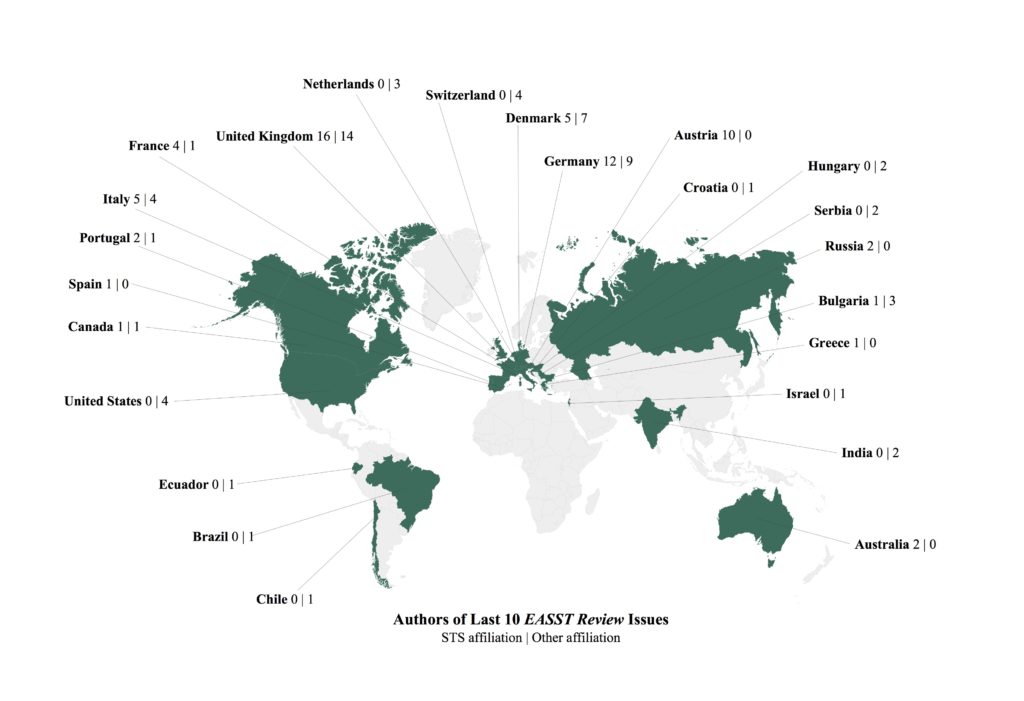 New Issue EASST Review: Volume 36 (2) 2017 – Now Available

The editorial note by Ignacio Farías reflects on STS as Extitution
The section 'STS Live' features three more contributions on 'alternative facts'
The section 'STS Multiple' features the work of the Techno-Anthropological Laboratory at the University of Aalborg in Copenhagen
The section 'Cherish, not Perish' presents the Russian Journal »Sociology of Science and Technology«
The section 'STS Events' includes two interesting reports about workshops on 'Sensor Publics' in Munich and 'Living Infrastructures' in Volgograd
Finally, as usual, we include some important news from the EASST Council and a call for applications
For open access to all articles visit the EASST Review page.
EASST Fund 2017 Activities and 2018 Call
The EASST Fund aims to promote national and cross-national community building within EASST, advance new questions, topics and perspectives in science and technology studies as well as enable collaboration with non-academic actors publicly engaged in science and technology. EASST wishes to support a range of activities such as the organisation of conferences, network meetings, seminars or workshops.
The Fund now provides a standard award of €1000 per successful application and there will be an annual call.
The Call for applications to the fund for activities in 2018 is now open. Full details of the call can be downloaded here. Applications must be made on the form available here. Completed forms must be submitted by 15 September 2017.
Activities are now underway supported by the EASST Fund 2017
Workshop 'Community and Identity in Contemporary Technosciences'. This is the first thematic workshop to be organised by the newly founded association, STS Austria. The workshop was held 16-18 February 2017 at IFF, Alpen Adria Universität Klagenfurt-Wien. The programme can be downloaded here.
Workshop 'What can STS do for Democracy'. To be held 23-24 November 2017 at Aalborg University, Copenhagen. Submission deadline for abstracts 1 June 2017. Download further details.
Workshop 'Making Futures: Green Alternatives and STS Interventions'. 24-25 November 2017 at Adam Mickiewicz University in Poznań, Poland. Deadline for abstracts of 300 words, proposing theoretical, empirical and methodological interventions, is May 15th, 2017 (full call here).
3 day book sprint 'Science and Technology on the Periphery: A Manifesto'. 29 September to 2 October 2017 at Madeira Interactive Technologies Institute.
New Issue Science & Technology Studies: Volume 30 (2) 2017 – Now Available
EASST's international, peer reviewed, online journal Science & Technology Studies now has 4 issues a year.
Volume 30 (2) 2017 is now available. This is a special issue on the theme of New forms of interaction between University and Society. For contents and abstracts see our journal page.
Science & Technology Studies is now a fully open access journal. EASST members will continue to receive alerts via email when a new issue is published.
EASST 2018 Conference
The next EASST conference will be held in Lancaster UK from 25-28th July 2018.
The new EASST Council will visit Lancaster in May 2017 to see the facilities and to discuss the plans of the local team.
We then expect there to be an announcement of the theme and an initial call in June 2017.
Please hold the dates for our conference.
Council Elections – Outcomes from December 2016 Elections
EASST is run by an elected body of eight members, of which one is a student representative. There is additionally an elected president. The role of the Council is described in the constitution. All positions are for a 4 year term.
Elections carried out in December 2016 confirmed Ulrike Felt, University of Vienna, Austria as the President elect. The successful candidates for the 5 council member positions were Justiina Dahl, KTH Royal Institute of Technology, Stockholm, Sweden; Sarah de Rijcke, Leiden University, The Netherlands; Miquel Domènech, Universitat Autònoma de Barcelona, Spain; Aleksandra Lis, Adam Mickiewicz University in Poznań, Poland; and Kalpana Shankar, University College Dublin, Eire. Further details can be found on our council member page. Vicky Singleton, Lancaster University, UK and Attila Bruni, University of Trento, Italy continue for a further 2 years.
Election for Student representative on Council. A separate election closed on 6th February. The successful candidate was Dara Ivanova, Erasmus University Rotterdam, The Netherlands. Further details can be found on our council member page.
EASST 2016 Awards Ceremony
EASST Awards for Collaborative Activity were presented at the Barcelona Conference on 3rd September 2016 in a new style final plenary session. The photograph (by Govert Valkenburg) shows EASST and 4S award winners with EASST and 4S presidents at the end of the event.
The Amsterdamska award 2016, for a significant creative collaboration in an edited book or special issue in the broad field of science and technology studies, was made to Beyond Imported Magic: Essays on Science, Technology, and Society in Latin America, MIT Press, 2014, edited by Eden Medina, Ivan da Costa Marques & Christina Holmes.
The Freeman award 2016, for a publication which is a significant collective contribution to the interaction of science and technology studies with the study of innovation, was made to The New Production of Users: Changing Innovation Collectives and Involvement Strategies, Routledge, 2016, edited by Sampsa Hyysalo, Torben Elgaard Jensen & Nelly Oudshoorn.
The Ziman award 2016, for a significant innovative cooperation in a venture to promote public interaction with science and technology, was made to The Leiden Manifesto ‐ declaration, website and international network, authored by Diana Hicks, Paul Wouters, Ludo Waltman, Sarah de Rijcke & Ismael Rafols.
Download the citations here.
Full details of the awards and their background can be found here.
Established in 1981 EASST is the organization which represents academics and researchers in the broad field of science, technology and innovation studies. It brings together a variety of disciplines and many of its members have qualifications in both natural science/engineering and social sciences.
EASST's objective is to foster within Europe the scholarly study of science and technology including their historical development and their role in society and in particular to:
improve scholarly communication and exchange in the field
increase the visibility of the subject to policy-makers and to the general public
stimulate and support teaching on the subject at all levels.
It promotes a variety of activities to further these aims including biennial conference.