The September issue of EASST Review is now available. It can be downloaded as a complete issue here or you will be able to access individual articles from the EASST website.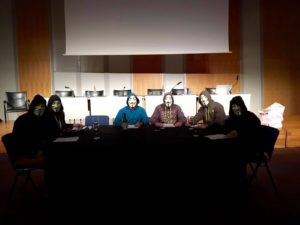 This issues includes:
An editorial which focuses on STS by other means
STS Multiple features the Science, Technology and Innovation Studies at the University of Edinburgh
Cherish, not Perish highlights the Nordic Journal of Science and Technology Studies
The STS Events section includes reports on the Workshop 'Social Studies of the Economy in Latin America', the research program 'Making Science Public', 6th Postgraduate Science and Technology Studies Conference, the written evidence on "Leaving the EU: implications and opportunities"
Finally, news from the EASST Council, a Call for Applications and the EASST Awards.
For open access to all articles visit the EASST Review page.
Council Elections – Voting Closes 19th December

EASST is run by an constitution. An article in the current EASST Review by Fred Steward, out-going President, discusses recent work of the Council and future opportunities.

All positions are for a 4 year term. There are vacancies for 5 council members, 1 student member and the President. The election for 5 council members and the president will open on 30th November and close on 19th December. All members will receive an email with a link to the candidate statements and a unique link to an online ballot. If you do not receive this or have any problems with the process then email admin(at)easst.net.

We are having another call to attract nominations for the student position. Details available shortly.

Call for Applications for the Annual EASST Fund 2017

Council is pleased to announce a redesigned EASST Fund scheme in response to a steady increase of interest. There will now be an annual call for applications for €1000 per successful application.

The scheme aims to promote national and cross-national community building within EASST, advance new questions, topics and perspectives in science and technology studies as well as enable collaboration with non-academic actors publicly engaged in science and technology. EASST wishes to support a range of activities such as the organisation of conferences, network meetings, seminars or workshops.

You can download the full call here. Applications should be made via our application form – deadline 31st October 2016. Events / activities should take place during 2017.

Any questions email admin(at)easst.net or marton.fabok(at)liverpool.ac.uk.

New Issue Science & Technology Studies: Volume 29 (3) 2016 – Now Available

EASST's international, peer reviewed, online journal Science & Technology Studies now has 4 issues a year.

Volume 29 (3) 2016 is now available. This is part 3 of a special issue on Knowledge Infrastructures edited by Helena Karasti, Florence Millerand, Christine M. Hine & Geoffrey C. Bowker. For contents and abstracts see our journal page. EASST members can access all content using details provided by email.

Any problems please email admin(at)easst.net.

EASST/4S 2016 Conference

EASST/4S 2016 conference 'Science and Technology by Other Means' was held from August 31st to September 3rd 2016 in Barcelona, Spain. The conference was attended by nearly 2,000 delegates from more than 50 countries.  The local team were thanked at the end of the conference for their fantastic organisation by Lucy Suchman (4S President) and Fred Steward (EASST President).  (Thanks to Govert Valkenburg for the photograph).

The local website contains full details of the theme, accepted tracks and papers and organising committees.

EASST 2016 Awards Ceremony

EASST Awards for Collaborative Activity were presented at the Barcelona Conference on 3rd September 2016 in a new style final plenary session. The photograph (by Govert Valkenburg) shows EASST and 4S award winners with EASST and 4S presidents at the end of the event.

The Amsterdamska award 2016, for a significant creative collaboration in an edited book or special issue in the broad field of science and technology studies, was made to Beyond Imported Magic: Essays on Science, Technology, and Society in Latin America, MIT Press, 2014, edited by Eden Medina, Ivan da Costa Marques & Christina Holmes.

The Freeman award 2016, for a publication which is a significant collective contribution to the interaction of science and technology studies with the study of innovation, was made to The New Production of Users: Changing Innovation Collectives and Involvement Strategies, Routledge, 2016, edited by Sampsa Hyysalo, Torben Elgaard Jensen & Nelly Oudshoorn.

The Ziman award 2016, for a significant innovative cooperation in a venture to promote public interaction with science and technology, was made to The Leiden Manifesto ‐ declaration, website and international network, authored by Diana Hicks, Paul Wouters, Ludo Waltman, Sarah de Rijcke & Ismael Rafols.

Download the citations here.
Full details of the awards and their background can be found here.

Established in 1981 EASST is the organization which represents academics and researchers in the broad field of science, technology and innovation studies. It brings together a variety of disciplines and many of its members have qualifications in both natural science/engineering and social sciences.
EASST's objective is to foster within Europe the scholarly study of science and technology including their historical development and their role in society and in particular to:
improve scholarly communication and exchange in the field
increase the visibility of the subject to policy-makers and to the general public
stimulate and support teaching on the subject at all levels.
It promotes a variety of activities to further these aims including biennial conference.