YB: In review, how would you summarize the liberatory ideas around the contemporary digital fabrication from the presentations in the track?
BC: As an outsider to the field of making and digital fabrication, I wanted to know more about the values (or regimes of value – Boltanski and Thévenot, 2006) that are guiding these practices—how they may coexist, clash or subordinate one another. I have identified at least three distinct regimes of value, based on the empirical cases presented by the panelists. Obviously, what follows is a simplification, but I guess it can be a good starting point for our discussion.
Roughly put, digital fabrication has been explained or heralded as:
A way to democratize knowledge and to empower communities by giving them an opportunity to appropriate technological tools and innovate for collective needs. Similarly, it could be described as a way for people to own back the means of production and to allow for non-alienated forms of labor.
As part of a green discourse, when it is praised as a way to save natural resources by manufacturing locally and sharing globally open digital designs for more sustainable products (see also Kostakis et al. 2016).
As a form of open innovation that can be easily geared towards the creation of new marketable products and services, a form of entrepreneurship that can be at the service of industrial research or of startups seeking investors on financial markets; as the key to an era of economic growth based on knowledge and innovation.
I could see in some of the empirical cases presented at the track that one or another mode of valuation was predominant, or that there were usually some tensions between them (some more explicit, some less).
YB: I think you identified most attributed values. In addition, there are hybrids between them, as aiming for sustainability through local production might be something that a local community is looking to achieve through the means of digital fabrication. In a sense, it's community-building through resourceful digital fabrication. While I don't recognize any critical tension between the first and the second form, there is certainly potential for conflict when the third one acts upon the other ones.
BC: Then the suggestion by the track convenors, to look back at history and find similar (if not the same) kind of tensions, might be accurate. I am sure there are both continuities and discontinuities. How relevant and productive do you think these historical comparisons can be for the case of digital fabrication?
YB: I think this suggestion was outside of the scope or research goal of most of the presentations. Some of them clearly identified if not a similar historical tension, at least a historical point of reference to compare the ideological developments of digital fabrication. That being said, we can begin with some of the presented cases and see how much we can connect our discussion to temporalities.
The ten presentations not only reflected the different meanings of making and digital fabrication to the different actors being studied, but also revealed that the very same aim to transcend the common geopolitical and disciplinary boundaries. At best, they show how different studies of one and the same concept, here for example, mass customization through digital fabrication, can lead to somewhat opposing results and understandings. As in ginger coons' detailed study of contemporary digital customization techniques for the mass-consumer market, where she argued that they cannot generate the same experience and connection between consumer/client, manufacturer, and the object of production as was the case of late 19th century tailor-made dresses in Victorian England. On the opposite, Sam Forster and Katharina Vones argued that through the introduction of 3D printing of souvenirs in a cultural institution such as a museum or a castle, museum visitors often felt they were getting something unique or custom-made for them instead of the common mass-produced objects. What both studies disclose is that digital fabrication, based on the principles of Computer Numerical Control (CNC) systems, is actually much closer to the mass-production processes than it is to traditional craftsmanship, but through its small scale of production it appears as tailor-made to the end-user. This is just one side of the story to look at.
For me, at times, the meanings and valuation of making and digital fabrication for different people remind me a little bit of the Arts and Crafts movement and its ideology. Those who had the time to indulge in it as leisure had the financial security and the free time of the upper middle class. The others did not have the free time and most likely had to do it for a living. This is similar with digital fabrication—in wider parts of the Global South it provides the means and promises for a better living. So the ties to innovation are not bad per se. On the other side, we can see how in the rather affluent parts of Europe and North America it's being adopted for the promise to contribute to sustainable living and to reduce our global problems of consumption, pollution, or poverty. Yet again, even within the Global North the access to it is limited by our financial and social status.
The question is how to balance the utopian vision of making and digital fabrication as being practices and tools for everyone and their incorporation into the same old ways of knowing and doing. It is in this sense a bit like the archetypical idea of the computer hackers revolting against the system, while at the same time so many of them are ready to take on a job for the global IT companies. I think, more than anything else, the track displayed that we might need a typology of making and digital fabrication. Then, again, STS teaches us that classifications fail to account for everyone and everything (Bowker & Star 1999).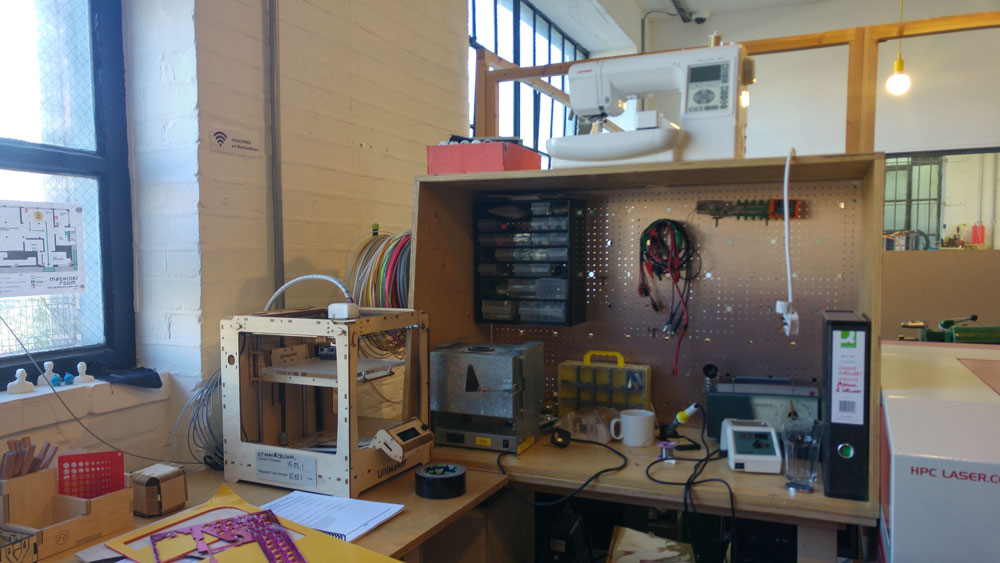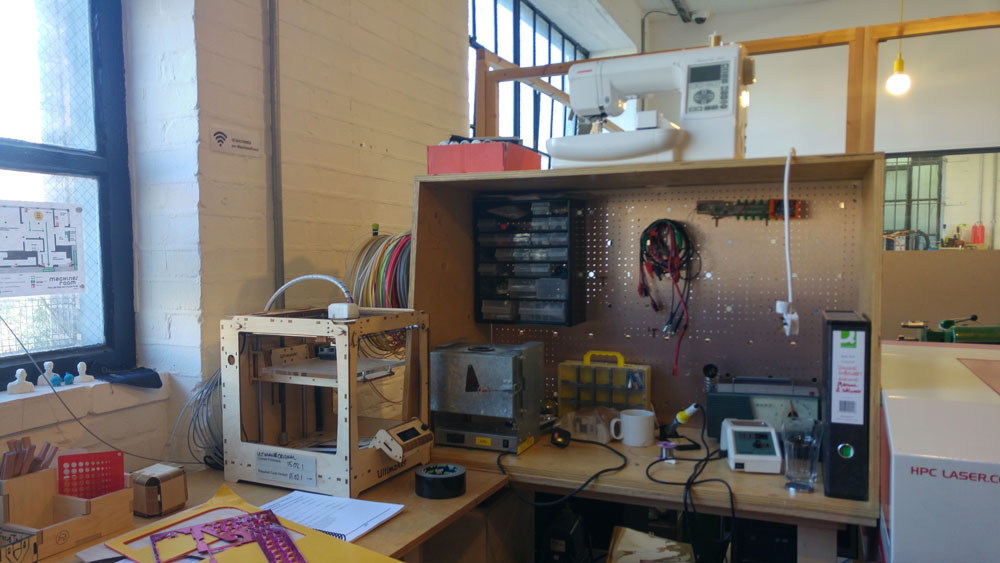 BC: You made two interesting remarks there. First, on how digital fabrication may be closer to customization within mass production than to small-scale craftsmanship. To that I would also add a complementary historical pattern in computer development: the relations of power and control between managers and the detainers of capital, on the one hand, and knowledge-workers and makers, on the other, which have been updated, only to be kept the same. Here I'm thinking about Tobias Drewlani and David Seibt's description of Google's Project Ara, for designing a modular smartphone, whereby a certain openness towards hackers and independent developers in the innovation process can be easily translated to enhanced corporate control.1 Collaborative dynamics and open knowledge are embraced by corporations, as long as they are the ones setting the standards in the design process and controlling production and distribution.
Second, you mentioned the question of access to these spaces, usually limited to those with a certain financial and social status. I was happy to see a counterexample in Rafael Dias and Adrian Smith's presentation, about digital fabrication labs in São Paulo and their connection to the local community and schools. Apparently, one of the spaces was set up mostly with an educational focus, to provide the tools and social environment for the purpose of learning, of exercising creativity and curiosity. Not only did they observe a kind of "barefoot making" (as the authors named it, in contrast to the predominant culture of white male geeks), but also a space that did not come with any requirements or expectations to innovate, to produce "disruptive" ideas or products to the market. This arrangement should last, of course, as long as there is any budget – and not less important, the political will – for the municipality of São Paulo to continue funding the place.
This brings us back to the question of a wider context – political, economic or even historical – in which these spaces as inserted. The context should be explained (and not the automatic explanation), of course, for each empirical situation, but as researchers we should not overlook the recurring patterns that can be identified across sites. I noticed this thread running throughout the different presentations. Evelyn Lhoste and Marc Barbier treated the institutionalization process of the hacking and making movement by focusing on the work of Fab Lab managers as brokers, whilst Klara-Aylin Wentel, Sascha Dickel and Anton Schröpfer showed how a makerspace in the Technical University of Munich2 turned into a place for potential entrepreneurship, for business and startups, thus reproducing employer-employee relations and more hierarchical modes of knowing and investigating. The political context in urban planning was also pinpointed by Ramón Ribera-Fumaz: makerspaces can be planned top-down, placing a city in the global market to attract capital and startups, or they can be set up in a bottom-up fashion, towards citizen empowerment and to attend local needs.
Whether you call this interplay between different modes of valuation a process of "transformation", "co-optation" or even "translation" of interests (the latter following the ANT-inspired approach), you have to recognize, as a scholar, that there are enduring patterns throughout time and space (call them social/power structures, depending on your theoretical leanings), despite the ontological uniqueness of each empirical setting studied. The proposal of the track, in this reading, was to identify one such pattern of social relations running throughout history.
YB: I'm glad you mentioned the context within which Fab Labs and makerspaces are both set up and researched, as well as how they are increasingly integrated into corporate and institutional traditions. I would add to that the idea of the value of co-creation for corporations and organizations. I would not argue that control is necessarily the leading motivation for projects like Project Ara or even the workshops run by UnternehmerTUM. Most often, larger companies and institutions just lack the flexibility to develop and create new concepts and products by themselves and the "open" inclusion of externals in these projects fosters innovation. Despite that, in the end the model often leads to what you described.
BC: The motivation behind this kind of projects is ultimately to increase profits by developing new technologies. Some form of control is necessary in order to accomplish that, either by setting the standards of the design or by owning the property rights or the capability to produce and sell any product based on the developed technology. But are the forms of control today the same as they were once, when the first forms of computerized automation at industry were seen as a way to solve the problem of labor (Noble 1984)?
YB: As Maxigas points out to David Noble, the introduction of CNC in the United States was meant to reduce workers' control in the production process and suppress their skills (Noble 1984). But Noble also notes that with time the skills became dispersed, engineers had to interact with shop-floor workers in order to achieve what they wanted, and workers had to acquire and adapt their technical skills, so a full deskilling never happened. Moreover, not all historical examples of CNC machines or computers in work practice were considered negative or a plan to deskill workers. Pelle Ehn and Morten Kyng's famous Scandinavian UTOPIA project from in the 1980s, where the introduction of computers for the production of a daily newspaper involved the printers, the typesetters, and the journalists to work on the development of this new system, is one such historical example of a cooperative type of hierarchy (1991).
I find it interesting that the track description brought the example of the "historical irony" that now workers demand that such automation is being introduced. I think the difference to 40-50 years ago as in Noble's examples is that those machines and computers are now part of worklife and for many not only indispensable but also least understood as a control mechanism. If we take 3D printing as an example and its use in Fab Labs, especially those charging a pay-on-the-go fee, it might actually give back control to the 'workers'—those that use it to create and manufacture prototypes of designs without the classical manufacturing chain of outsourcing the production elsewhere, often abroad, and waiting for their prototype to be shipped back weeks later. Rather, where I see what Noble describes happening, is the full automatisation of production with robots and not deskilling, but displacement of human beings. But this is a topic for a different discussion.
BC: The project of substituting unruly factory workers by machines certainly did not work. What solved this issue (still from the perspective of the corporate and managerial elites in the US) was moving production overseas to China and other countries with cheap workforce. That is why we need to situate technological development and its intimate relationship with labor in different periods of history (and here we are talking mainly about post-war capitalism and the subsequent period of neoliberal globalization). It is telling, for example, that John Maynard Keyne's prediction in the 1930s about technological development lowering our working hours considerably by the end of the twentieth century never became true. What happened there, and what kind of technological advancement is being made? I find very compelling David Graeber's (2015) argument that the present form of capitalism is more characterized by an all-pervasive bureaucracy than competition in the market spurring innovation and technological breakthroughs. In this respect, one could not help but wonder if hackerspaces and makerspaces were not also set up originally as a reaction to this bureaucratic and managerial culture of research, both within universities and corporate R&D departments. Certainly, for many they seem to be an oasis for curious, no-strings-attached, exploration of technology, in a desert of administrative paperwork and productivity goals. Perhaps that is also why leading companies are turning towards peer production and fomenting collaborative dynamics (IBM and Linux, for example), as a way to find the value they would not get from regular job contracts. Add to this the so-called sharing economy of Uber and Airbnb and we have got a great and unsustainable model based on precarious labor. But the game is not over and digital fabrication still holds its promises in a hostile environment. I agree that 3D printing has a potential to relocalize manufacture, to create a design commons, and empower cooperative of workers and communities. In that case, we need to create and reinforce the appropriate institutions to make it work.
YB: Good point and I won't dispute this. For sure, many of these spaces and collectives began as a counter-reaction to the 'slow' and inaccessible modes of research and production. But I wonder which appropriate institutions would be the most empowering. In my research, I've been encountering several funding models for makerspaces and Fab Labs in order for them to be able to survive — communal or national government funding to establish the space, corporate partnerships to acquire the machines, business angels to ensure that staff gets paid, and at the very least paid memberships to keep it running. It's not very different from how academic institutions or small companies run their business. Perhaps, and in conclusion, the difference is in the scale as one of my interviewees said about the plastic waste produced with 3D printing — at least, it's one small piece at a time and not the thousands of mass-produced pieces of junk that drive the global economy.
1 In their presentation, Drewlani and Seibt showed how the conflict between openness and closure slowed down the development of the project. As a matter of fact, Project Ara was officially discontinued by Google on September 2, 2016—one day after the two researchers presented their empirical study. http://www.reuters.com/article/us-google-smartphone-idUSKCN11806C [retrieved on October 14, 2016]
2 UnternehmerTUM, https://www.unternehmertum.de/index.html [retrieved on October 14, 2016].