EASST/4S 2016 Conference
EASST/4S 2016 conference 'Science and Technology by Other Means' will be held from August 31st to September 3rd 2016 in Barcelona, Spain.
The local website contains full details of the theme and the organising committees. The call for tracks is now open and you can submit online from the website.
Proposals must be submitted by 26th October 2015.
A call for papers will follow. This will open on 23rd November 2015 and close on February 21st 2016.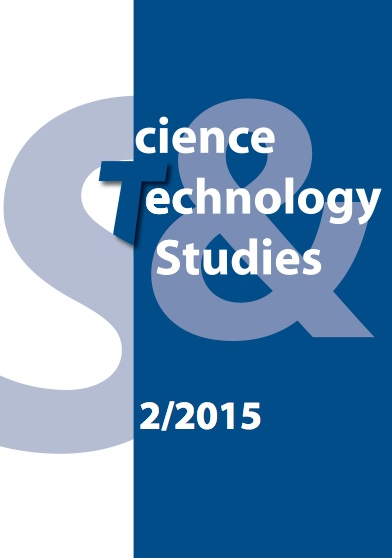 New Issue Science & Technology Studies: Volume 28 (2) 2015 – Now Available
In Autumn 2012, EASST launched its own international, peer reviewed, online journal Science & Technology Studies. For further details see our journal page.
The ninth issue of Science & Technology Studies: Volume 28 (2) 2015 is published. For contents and abstracts see our journal page. EASST members can access all content using details provided by email.
Any problems please email admin(at)easst.net.
Council elections – results

EASST is run by an elected council of eight members, of which one is a student representative, and an elected president. The role of the Council is described in the constitution. Elections are for a 4 year term.
An election has been held for two Council vacancies. There were 6 candidates. Congratulations to Vicky Singleton who was elected and Attila Bruni who was re-elected. 36% of EASST members voted.
News on EASST Council activities appear regularly in EASST Review.
EASST support for 2015 activities
In the non-conference year 2015 EASST is supporting smaller activities, such as conferences, network meetings, seminars, workshops, summer schools etc. The 2015 support scheme aims to promote cross-national community building within EASST, advance new questions, topics and perspectives in science and technology studies, as well as enable collaboration with non-academic actors engaged in science and technology. A strong set of applications was received and assessed by Council against previously published criteria. Six events, listed below, will receive support towards their activities and reports will appear in EASST Review.
Further information from a downloadable document.
• Does History Matter? Techno-sciences and their historically informed policies. A workshop to be held at the National and Kapodistrian University of Athens, Greece.
• Launch event for new UK Science, Technology and Innovation Studies national programme and Association. Held at SPRU, University of Sussex, UK, 25 August 2015.
• Science and Research in Popular Culture. To be held at Klagenfurt, Austria, 17-18 September 2015.
• STS Austria – launch event & workshop. To be held at the University of Vienna, Austria, 3-5 December 2015.
• Technosciences of Post/Socialism. This workshop was held in Budapest, Hungary, 3-5 September 2015. A video of the keynote speech is available here.
• Science and Technology as Way of Life: Observing the Practices at Confined Research Stations and Large Technical Systems in High Mountains. Summer school to be held at National Astronomical Observatory Rozhen, Bulgaria.
EASST 2014 Awards Ceremony
EASST Awards for Collaborative Activity were presented for the second time at the Torun Conference on 19th September 2014.
Pictured from left to right the photograph shows:
Johan Schot who received the Freeman award on behalf of 'Making Europe – Technology and Transformations 1850 – 2000 (Palgrave Macmillan) a book series launched in 2013 and edited by Johan Schot & Phil Scranton.
Ulrike Felt who received the Ziman award on behalf of 'Science in Society: Caring for our future in turbulent times' (European Science Foundation – Policy Briefing; Strategic Action 'The Future of Science in Society' 2011-13).
Israel Rodriguez-Giralt who received the Amsterdamska award on behalf of 'Disasters and Politics. Materials, Experiments, Preparedness' (Wiley-Blackwell 2014) edited by Manuel Tironi, Israel Rodriguez-Giralt & Michael Guggenheim.
Download the citations here.
Full details of the awards and their background can be found here.
Established in 1981 EASST is the organization which represents academics and researchers in the broad field of science, technology and innovation studies. It brings together a variety of disciplines and many of its members have qualifications in both natural science/engineering and social sciences.
EASST's objective is to foster within Europe the scholarly study of science and technology including their historical development and their role in society and in particular to:
improve scholarly communication and exchange in the field
increase the visibility of the subject to policy-makers and to the general public
stimulate and support teaching on the subject at all levels.
It promotes a variety of activities to further these aims including biennial conference.